About Us
Patriot Hunts was founded by Ken and Pam Barnard, both military brats and huge supporters of the military. Ken being an avid outdoorsman, plus the fact he was born right here on Ft. Bragg, slowly began to see the need for getting our wounded warriors involved in the outdoors. After numerous trips to Walter Reed Army hospital, and visiting friends before during and after surgeries, I knew then the path I would take was set into motion. It not only broke my heart as to what I saw there, but it gave me a passion like no other, and a direction I knew I had to take. I wanted to introduce every wounded soldier that was interested in the outdoors to have a chance to go out and experience it. Or to give those that already like to hunt or fish the opportunity to get back in the outdoors.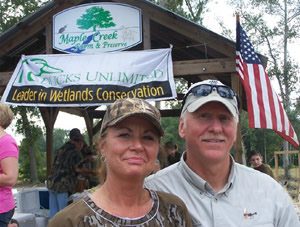 These men and women have given up so much for this country, not only their time away from families, but sometimes their life and limbs. This experience dealing with these warriors has been one of the most rewarding and positive periods of my life. They give without asking anything in return from this country. We at Patriot Hunts give, because they ask for nothing, but have in some cases given everything. We as outdoorsmen have so many resources available to us to enjoy. All we want to do is share some of those precious resources with these soldiers, to help them mentally and physically cope with their injuries.
Proudly supporting our Gold Star Families that have been devastated by the loss of a loved one. We provide several "Patriot Kids Days" throughout the year where we give these kids a opportunity to experience the outdoor resources we love so much. If not for volunteers, and Sponsors like you, most of these kids that have lost a parent would not have the chance to experience the great outdoors and the sport of hunting/fishing, and so many other venues we provide.
The spirit of the American soldier is alive and well. Let's show them the spirit of the American Patriot is also alive and well by showing your support and giving to this awesome program. Standing up for the fallen warriors that no longer have a voice, what a privilege and honor…
Thank you for giving.
"We must never quit..We must never falter..We must never leave a fallen comrade"